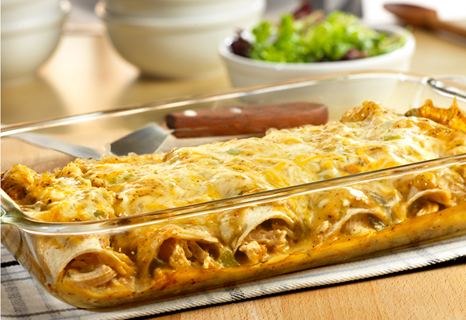 Photo courtesy of
CampbellsKitchen.com
I'm glad we didn't pin down a menu plan for this busy week, otherwise I wouldn't have found this recipe today! Creamy and delicious, and very easy!
Creamy Chicken Enchiladas
adapted from CampbellsKitchen.com
1 can cream of chicken soup
1/4 c water
1/4 c sour cream
1 4.5 oz can chopped green chiles, drained
1 tsp dried oregano
1 tsp chili powder
2 tsp hot sauce
2 c shredded cooked chicken
1 c shredded Mexican blend or Cheddar cheese
6 6-inch corn tortillas (I used flour since that's what I had on hand.)
Preheat oven to 400°. Spray a 9x13 baking dish with non-stick spray. In a medium bowl, combine soup, water, sour cream, chiles, oregano, chili powder, and hot sauce. In a separate bowl, combine 1 cup of the soup mixture with the shredded chicken. Stir in 1/4 cup of the cheese.
Divide the chicken mixture evenly between the tortillas, spreading mixture down the center of each one. Roll up tortillas, and place seam-side down in the baking dish. Spread the remaining soup mixture over the filled tortillas, then sprinkle with the remaining cheese.
Cover the dish, and bake for 30 minutes.
*Top with sliced black olives and/or scallions before serving, with salsa on the side.