Wednesday, November 24, 2010
Have a safe, blessed holiday.
~Kelly
Tuesday, November 23, 2010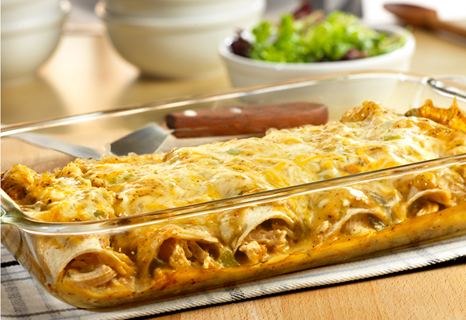 Photo courtesy of
CampbellsKitchen.com
I'm glad we didn't pin down a menu plan for this busy week, otherwise I wouldn't have found this recipe today! Creamy and delicious, and very easy!
Creamy Chicken Enchiladas
adapted from CampbellsKitchen.com
1 can cream of chicken soup
1/4 c water
1/4 c sour cream
1 4.5 oz can chopped green chiles, drained
1 tsp dried oregano
1 tsp chili powder
2 tsp hot sauce
2 c shredded cooked chicken
1 c shredded Mexican blend or Cheddar cheese
6 6-inch corn tortillas (I used flour since that's what I had on hand.)
Preheat oven to 400°. Spray a 9x13 baking dish with non-stick spray. In a medium bowl, combine soup, water, sour cream, chiles, oregano, chili powder, and hot sauce. In a separate bowl, combine 1 cup of the soup mixture with the shredded chicken. Stir in 1/4 cup of the cheese.
Divide the chicken mixture evenly between the tortillas, spreading mixture down the center of each one. Roll up tortillas, and place seam-side down in the baking dish. Spread the remaining soup mixture over the filled tortillas, then sprinkle with the remaining cheese.
Cover the dish, and bake for 30 minutes.
*Top with sliced black olives and/or scallions before serving, with salsa on the side.
Posted by

Me:
at 9:01 PM
No comments:
Links to this post


I didn't put up a menu plan this week, because we're really just flying by the seat of our pants this week, using up some random things in the fridge, freezer and pantry.

Tomorrow I'm going to prep the bread, celery and onion for the stuffing, bake the pecan pie, and get everything gathered for our rolls for Thanksgiving dinner.

Are you ready for Thursday? What's on your menu?